Rovers and Leaders
After several years as a venture, one has become too old for organizing activities under the supervision of a venture leader. In fact, the experience he or she has acquired during these years has raised them almost at the same authority level as a leader. It is now time to become a true leader, and either to begin organizing activities for other sections, or continue living in an independent rover unit, a «clan».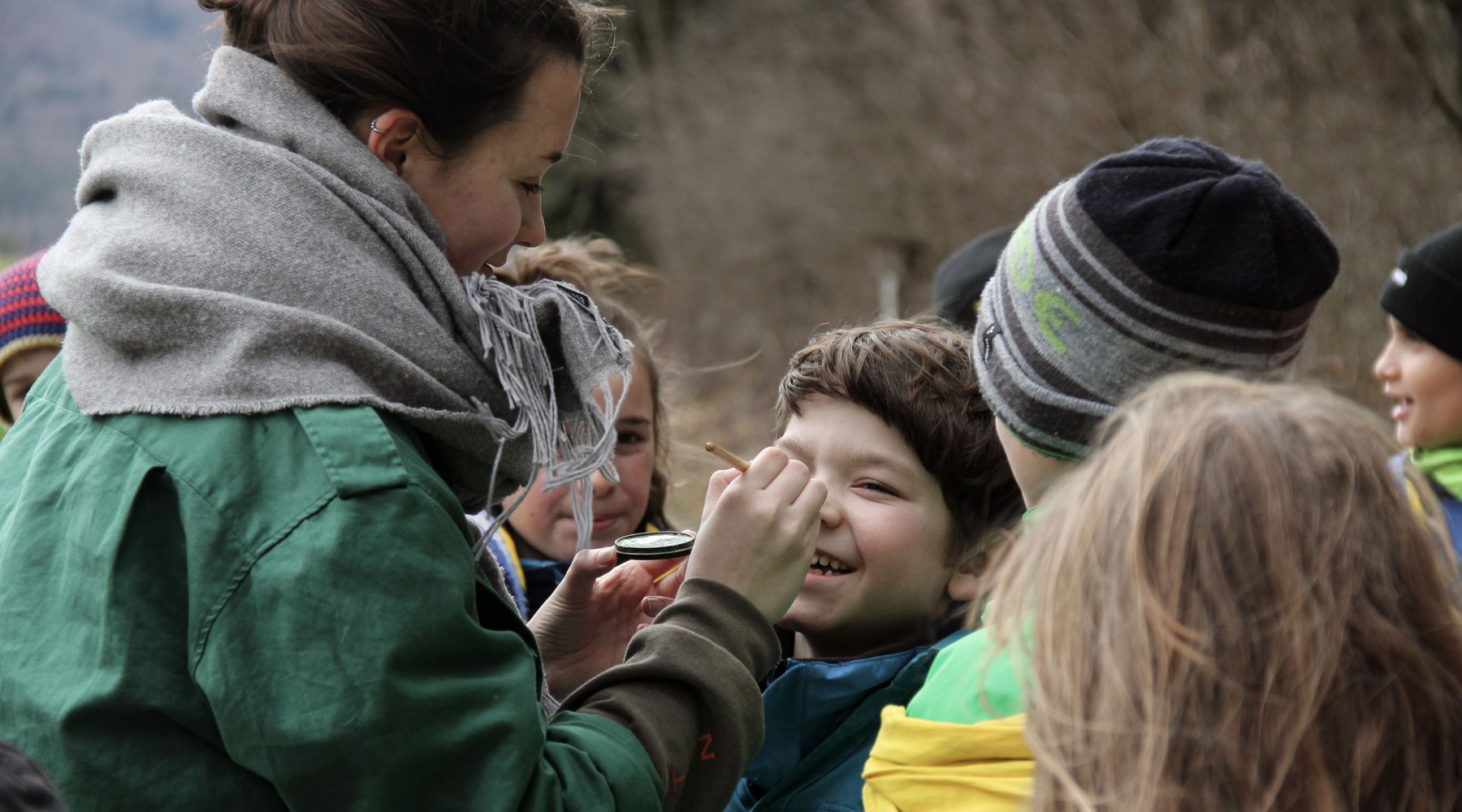 Uniform and scarf
Rovers wear a green Scout and Guide uniform along with the scarf of their local unit.
Types of activities
Most of the leaders plan and organize activities for the other sections. Others live their Scout life in a clan, together with 8–10 other rovers. Clan activities can include hiking and trekking (for example following a river from the source), bike tours, organizing a skiing trip, cooking together or a BBQ. Rovers also often support local group activities or camps as volunteers. There is a broad variety of events for rovers such as the rover sword, a competition of rover clans, various sports competitions or the Pfadi Folk Fest music festival. Rovers can also participate in the Explorer Belt, a challenge which is run as a ten-day expedition in teams of two in a foreign country.
Some rovers are also involved at the cantonal and/or federal levels of the Swiss Guide and Scout Movement. Their tasks can be either «office-Scout» administrative tasks, such as writing guidelines for planning activities and administrating the whole movement, or practical/executive ones, like organizing a national event (national jamboree).
Meetings and camps
Rovers, who are active as leaders for other age groups, usually meet once before each activity, and at the activity itself. They also meet several times per year for general planning sessions or fun activities. Independent Rovers or Rover clans on the other hand have no predefined meeting schedules and can decide to meet as frequently as needed for their planned activities.
Law and promise
We as Scouts and Guides want ...
... to be open and honest
... to seek joy and give joy to others
... to offer our help
... to make decisions and take responsibility
... to understand others and respect them
... to share with each other
... to take care of nature and all that lives
... to face difficulties with confidence
The promise
I promise to do my best
... to continue contemplating the Scout and Guide law
... to search for the meaning and the goal of my life
... to contribute to any community I live in
Together with all of you (voluntary: and with God), I will try to live according to this promise.
Badges
Each Rover has at least the emblem of their group and the badge of WOSM or WAGGGS on the left sleeve of their shirt. The left sleeve is intended for membership badges and the right sleeve for personal development badges.
When Rovers are active as leaders, they receive a leader badge, which is attached to the button of the left shirt pocket, and a cord with a whistle for the left arm, the whistle being kept in the left pocket of the shirt. The colour of the leader badge and cord depends on the function in the group or organisation.
Beside the promise, Rovers have only one dedicated badge, the Rover spiritual animation badge. A Rover gets this badge after participating in a special Rover spiritual animation, which takes place at the campfire. Spiritual discussions at the fire are often based on quotes from of Lord Baden-Powell or on the fundamental Scout and Guide values.