History
Learn more on the history of Switzerland with this short summary of the history of the country and Scouting and Guiding in Switzerland.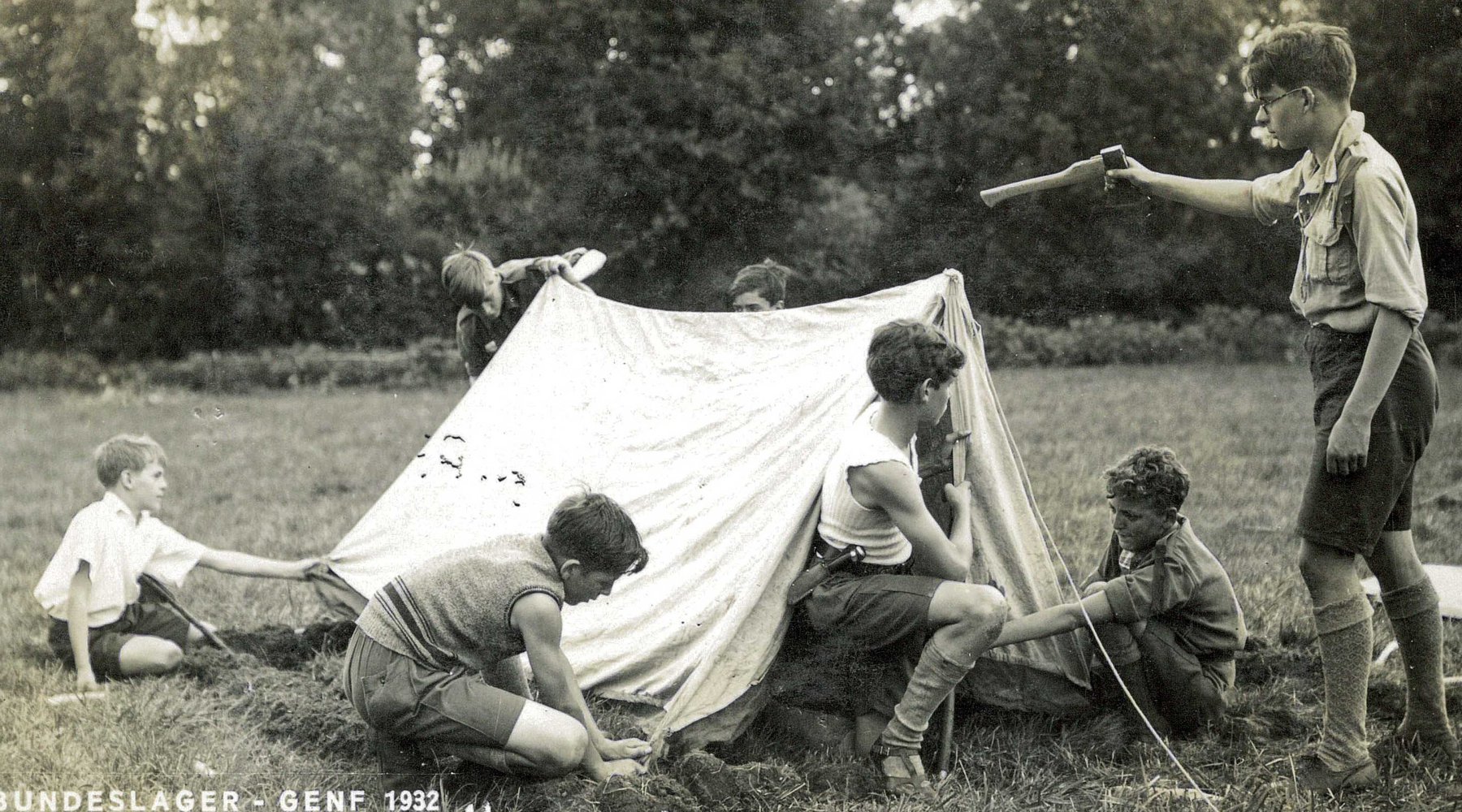 Switzerland
Switzerland is a small country in the middle of the Alps and Europe, situated at the crossing of different cultures and important means of communication. The geographical situation, with its numerous isolated little valleys, influenced the country and the people. The strong desires of independence in each community have enhanced the federal system which is still in use today.
Originally, a Celtic tribe called the Helvetians populated the country. Then various people settled in the territory which today constitutes Switzerland: the Germans to the north, the Burgundies to the west, the Lombards to the south and the Rhaetias to the east. This is the reason why Switzerland today has four official languages.
According to legend, Swiss history starts with the pact from 1291, when the three cantons of Uri, Schwyz and Unterwalden swore to help and support each other. This pact was made above all to protect them from the invasions of forceful Dukes interested in the Gotthard. In the course of the years, other cantons joined the pact to form what constitutes the territory of Switzerland today.
The country, however, has always depended on a good relationship with its neighbours. A special emphasis was always placed on cultural and economic contacts. Profitable treaties involving Swiss mercenaries used to be concluded with the neighbouring dukedoms. The Swiss confederation was also drawn into widespread international conflicts such as the Thirty Years War and the French Revolution. Civilian wars did not spare the country either.
Various constitutions were adopted between 1798 and 1848. As these constitutions did not always take into account the specificity of the Swiss people and their growing desire of independence, they had to be replaced one after the other. Finally, a federal state was created in 1848.
General Facts about Switzerland
Did you know that Switzerland is one of only two countries in the world with a square flag?
Population
about 8 000 000
Capital
Bern
Largest City
Zürich (400 000 inhabitants)
Religious denominations
Roman Catholic (46%)
Protestant (40%)
Others (14%)
Currency
Swiss franc, CHF
Area
15 940 sq. mi. /41 285 sq. km
Distances
North–south 137 mi. / 220 km
East–west 216 mi. / 348 km
Cantons
23, of which three are subdivided into half-cantons
Highest point
Dufour Peak in the Monte Rosa massif (Valais) 15 203 ft. / 4634 m
Lowest point
Lake Maggiore (Ticino) 633 ft. / 193 m
Language
Switzerland is one of the countries in Europe with the most official languages. The national languages of Switzerland are German (central and north-eastern Switzerland), French (western Switzerland), Italian (southern Switzerland) and Rumantsch (south-eastern Switzerland). Many Swiss, particularly those who work with visitors in one way or another, speak several languages
Climate
Temperatures generally do not reach extremes of hot or cold. In the cities, summer temperatures seldom rise above 86°F/30°, and the humidity is rather moderate. In winter temperatures often fall below 32°F/0°C and there is snow and ice. The southern part of Switzerland has subtropical vegetation and a mild climate year-round.
Famous inventions
Velcro
Cellophane (wrapping film)
Swiss Army Knife
Potato peeler
Muesli
Edible Chocolate Gold
Milk Chocolate
Instant Coffee
Fun facts
We have 208 Mountains over 13 123ft.  / 3 000m high
We have more than 1500 lakes
We produce half of the world's luxury watches
«CH» is an Abbreviation for «Confoederatio Helvetica»
Culinary Specialities
Swiss cuisine combines influences from the German, French and North Italian cuisine. However, it varies greatly from region to region with many very local specialities. Here we have listed some delicious recipes from different parts of Switzerland. Have fun trying them out.
Starters
Basel flour soup  (For 4 people)
100 gr Butter, melt in a pan
125 gr Flour, add to the melted butter and roast while constantly stirring for 20-30 minutes till the flour takes on a caramel brown colour
2 l Stock, add 5 dl to the roasted flour, bring to boil, add another litre of stock and cook on low heat for an hour. Stir from time to time. Add rest of stock when needed.
Season with salt and nutmeg or caraway
4 tablespoons Red wine, add to the soup, if wanted strain through a sieve and boil it up
1 dl Milk
50 gr Gruyère cheese, grated
Mix Milk and Gruyère in a soup bowl, add the soup while stirring. Roast some onion rings as decoration.
Sausage-Cheese-Salad  (For 4 people)
230 gr Onions, peeled and sliced in rings
230 gr Swiss cheese
340 gr Sausages (cooked)
85 gr Gherkins
20 ml Wine vinegar
20 ml Water
1 coffee spoon Mustard
1 coffee spoon Sugar
Salt and pepper
50 ml Salad oil
10 gr Chives, chopped
Pour water into a pot and bring to boil. Place the onion rings in the boiling water and cook for 2 minutes. Pour into a sieve and let drain thoroughly. Remove any rind from the cheese and cut into strips. Remove any skin from the sausage and cut into slices. Slice the gherkins. Place the onion rings, cheese strips, sliced sausage and gherkins in a salad bowl. Make the dressing by mixing together the vinegar and water, adding the mustard, salt, pepper and sugar, and whisking in the oil.
Pour the dressing over the salad ingredients and mix well. Refrigerate for at least one hour to let the flavours blend. Sprinkle with chives before serving.
Main Courses
Fondue  (Recipe from the Swiss French part, for 4 people)
600 gr Bread, cut into cubes
300 gr Gruyère cheese (mature)
300 gr Fribourg Vacherin cheese, grate through coarse grater and put into the caquelon (fondue pan)
300 ml Chasselas white wine
1 table spoon Cornstarch mix in a cup and pour over the cheese, bring to the boil at a low temperature, whilst constantly stirring.
1 Clove garlic peeled, add to the mixture
1 Small glass of Kirsch
add a little pepper, paprika and nutmeg, season according to taste
Leave the fondue to simmer on a réchaud (a small mentholated spirits burner with a stand) in the middle of the table. Stick bread cubes on long forks and dip them into the cheese mixture, before eating them directly. Keep stirring the cheese once in a while to prevent the cheese from sticking to the bottom of the pan.
Zürcher Geschnetzeltes  (Recipe from the Swiss Central part, for 4 people)
600 gr Chicken breast, cut into not too thin strips, stir-fry in butter, take meat out of pan and put aside
40 gr Shallots, finely chopped
120 gr Mushrooms, cut into stripes
1 Apple, peeled, pitted and cut into fine stripes, stew with some butter, shallots and mushrooms
100 ml White wine, add and allow to reduce
300 ml Gravy, add
300 ml Cream, add and cook
1/2 Lemon, juice, add
Salt, pepper, paprika and Worcester sauce, add to season
Add meat and warm up. As side dish we suggest pasta or rösti (grated, fried potatoes).
Risotto with saffron  (Recipe from the Swiss Italian part, for 4 people)
1 table spoon Margarine, heat up in a pan
1 small Onion, finely chopped
1 Clove garlic, brown gently
250 gr Rice (sticky), add and brown gently
200 ml White wine, add and cook for a little while
1/4 tea spoon Salt
1 sachet Saffron, add to taste
pepper, add to taste
8 dl Boiling chicken stock, pour into the pan a small amount at the time.
The mass ought to be sticky as well as "al dente". Cooking time after adding the wine: 20 minutes
100 gr Parmesan cheese, add and stir it in before serving
Desserts
Süssmostcreme  (For 4 people)
100 ml Apple juice
2 table spoons Cornstarch
2 Eggs, mix well with the apple juice and cornstarch, put aside
1/2 l Apple juice
2 table spoons Sugar, add
1/2 Lemon, juice and grated skin, add to 1/2l of Apple juice and sugar, boil and then take the pan off the heat.
Mix in the egg-juice-mixture from the first part, put the pan back on the heat and heat it up, sieve the crème and let it cool down.
200 ml Whipped Cream, add to the cooled down Apple juice crème
Bündner Nusstorte                                                                          
300 gr Flour
150 gr Sugar
150 gr Butter
1 Egg
Mix all to a dough, put 250 gr of dough aside for the lid, lay out the rest of the dough in a round cake form (3 cm high border).
300 gr Sugar, caramelize
250 gr Nuts, add to caramelized sugar
200 ml Cream, add and well up twice
Salt, pepper, paprika and Worcester sauce, add to season
Fill the mixture in the cake form, cover the cake with the rest of the dough, put into the cold oven and heat up. After 10 minutes turn down to middle heat, bake until the cake is golden.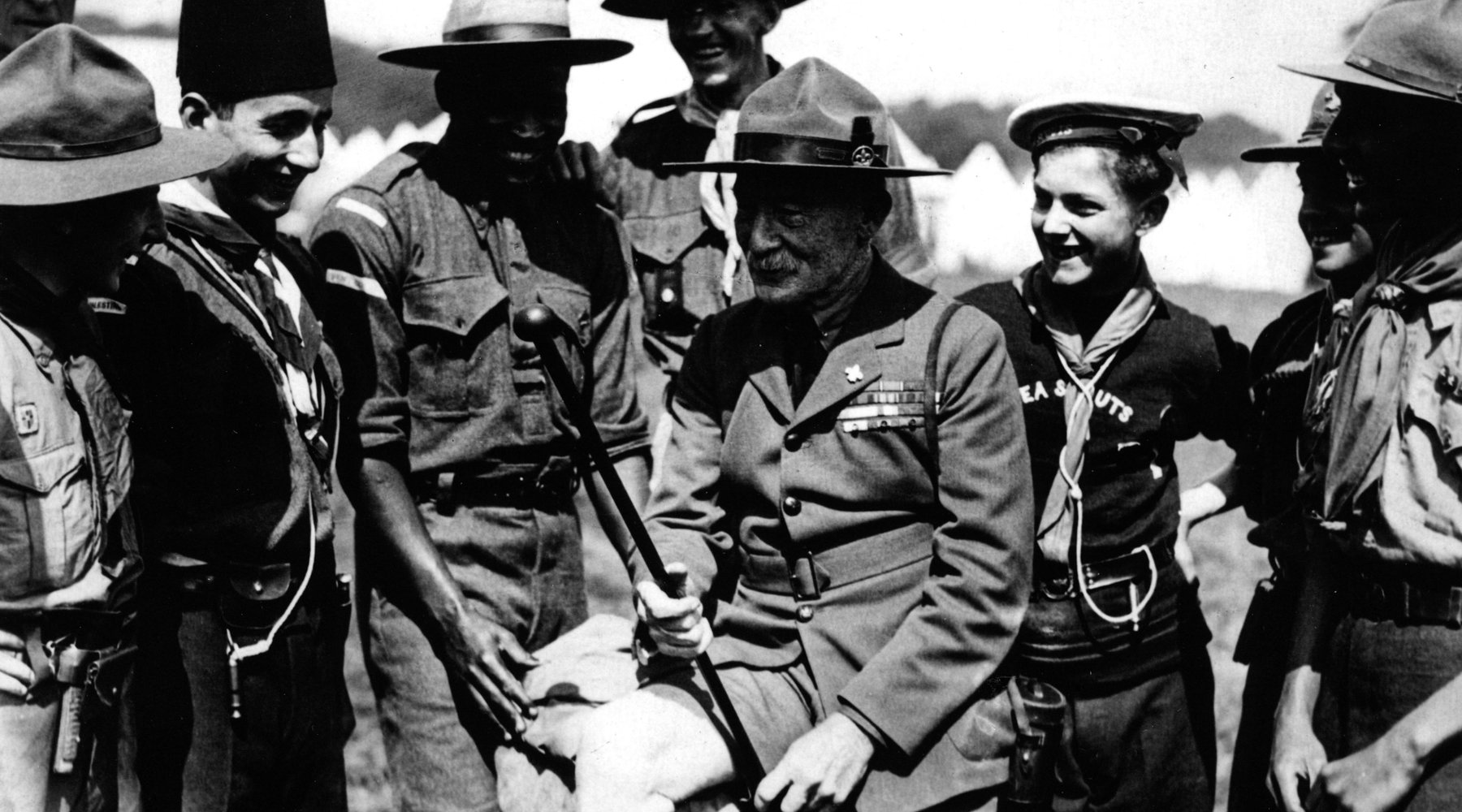 Swiss Guide and Scout Movement
The first Scout groups for boys in Switzerland were founded as early as 1910, the first girls group was founded only a little later.
On 5 October 1913 several cantonal Scout associations gathered in Bern and founded the Swiss Scout Federation (SPB). In contrast to the boys, the urge to form a common organizational form was initially less pronounced by the girls. It took several years until 1919, when the Swiss Confederation of Guides (BSP) was founded. As a result of its role as a multilingual and politically neutral country, Switzerland became an important meeting place for the global movement. The centres in Kandersteg (1923) and Adelboden (1932) were established and have remained meeting points for international meetings and cultural exchanges.
Already at this time first attempts were made to work together between the Swiss Scouts and the Swiss Guides. The efforts should however only intensify later and led 1987 to the merging of the two associations: The Swiss Guide and Scout Movement (MSdS) was founded. Today, with 50 500 members and around 550 local groups, Scouting and Guiding is the largest youth movement in Switzerland and stands for adventure, friendships and shared experiences in nature.