Venture Scouts – Together further
Venture Scouts are between 14 and 17 years old. They form teams of about 5 to 10 Venture Scouts and organize their activities (called «enterprises») on their own under the supervision of experienced leaders. At the end of their time as Venture Scouts they might start gaining their first experiences as Leaders in other sections.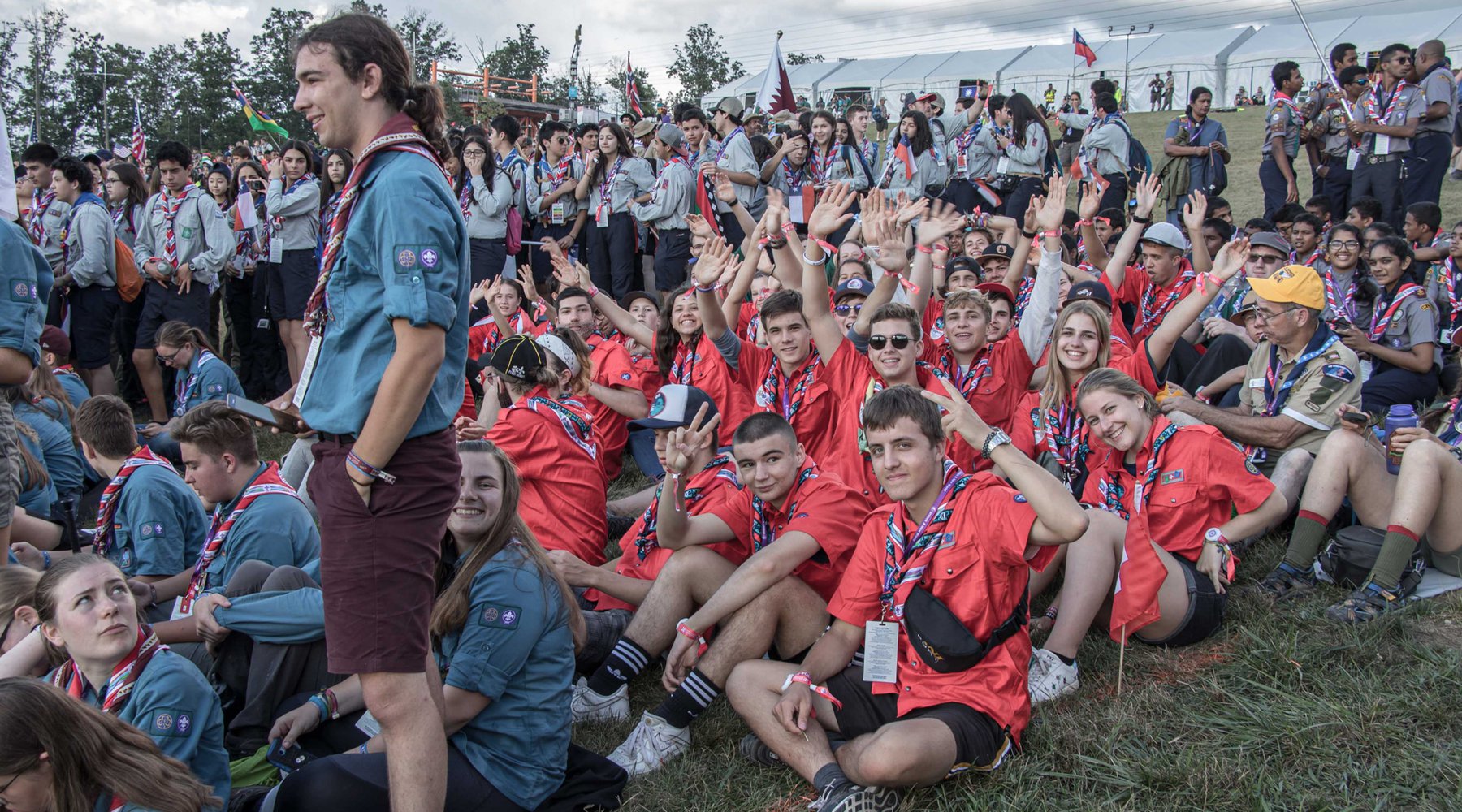 Uniform and scarf
A Venture Scout shirt is red, otherwise the same as a Scout or Guide shirt.
Types of activities
Since Venture Scouts plan their activities by themselves, there is no typical Venture Scout activity. Some teams organize very «Scout-like» activities, like snowshoe trekking with a night in an igloo, go skiing together, build a raft or run a crazy challenge (a sort of challenge where teams have to solve unusual tasks). Some also carry out more «social» projects, such as helping to build a school in a developing country. Since the participants organize everything by themselves, they also sometimes do some unusual things, like offering coffee and croissants in a tram in the morning. The leaders are also part of the team but mainly offer support and help coordinate instead of leading the activities. Such self-organized activities do not always run perfectly, but the participants have the opportunity to learn from their experiences and improve! The motto of the Venture Scout section is «Together further», symbolizing the importance of the team for the Venture Scouts.
Meetings and camps
As Venture Scouts plan and organize everything by themselves, they can schedule their meetings and events as it fits for them, be it once a month on a Saturday afternoon at one team member's home or on an evening during the week. They can plan weekends, camps and special events depending on the activities they want to achieve.
Law and Promise
We as Scouts and Guides want ...
... to be open and honest
... to seek joy and give joy to others
... to offer our help
... to make decisions and take responsibility
... to understand others and respect them
... to share with each other
... to take care of nature and all that lives
... to face difficulties with confidence
The promise
I promise to do my best
... to continue contemplating the Scout and Guide law
... to search for the meaning and the goal of my life
... to contribute to any community I live in
Together with all of you (voluntary: and with God), I will try to live according to this promise.
Badges
Each Venture Scout has at least the emblem of their group and WOSM or WAGGGS badge on their shirt, as well as a «Venture Scout badge», with the word «PIONNIERS» or «PIONIERI» for male Venture Scouts, and «CORDEES» for female Venture Scouts. Venture Scouts do not have any specific personal development or skill badge.