Scouts and Guides – Be prepared!
The Scouts and Guides Section, the core of the Swiss Scout and Guide Movement, is intended for young people aged 10–14. In Switzerland, most of the troops are mixed, and consist of about 25–30 girls and boys. The patrols of 6–7 people are usually either boys or girls only and are led by a patrol leader and their second.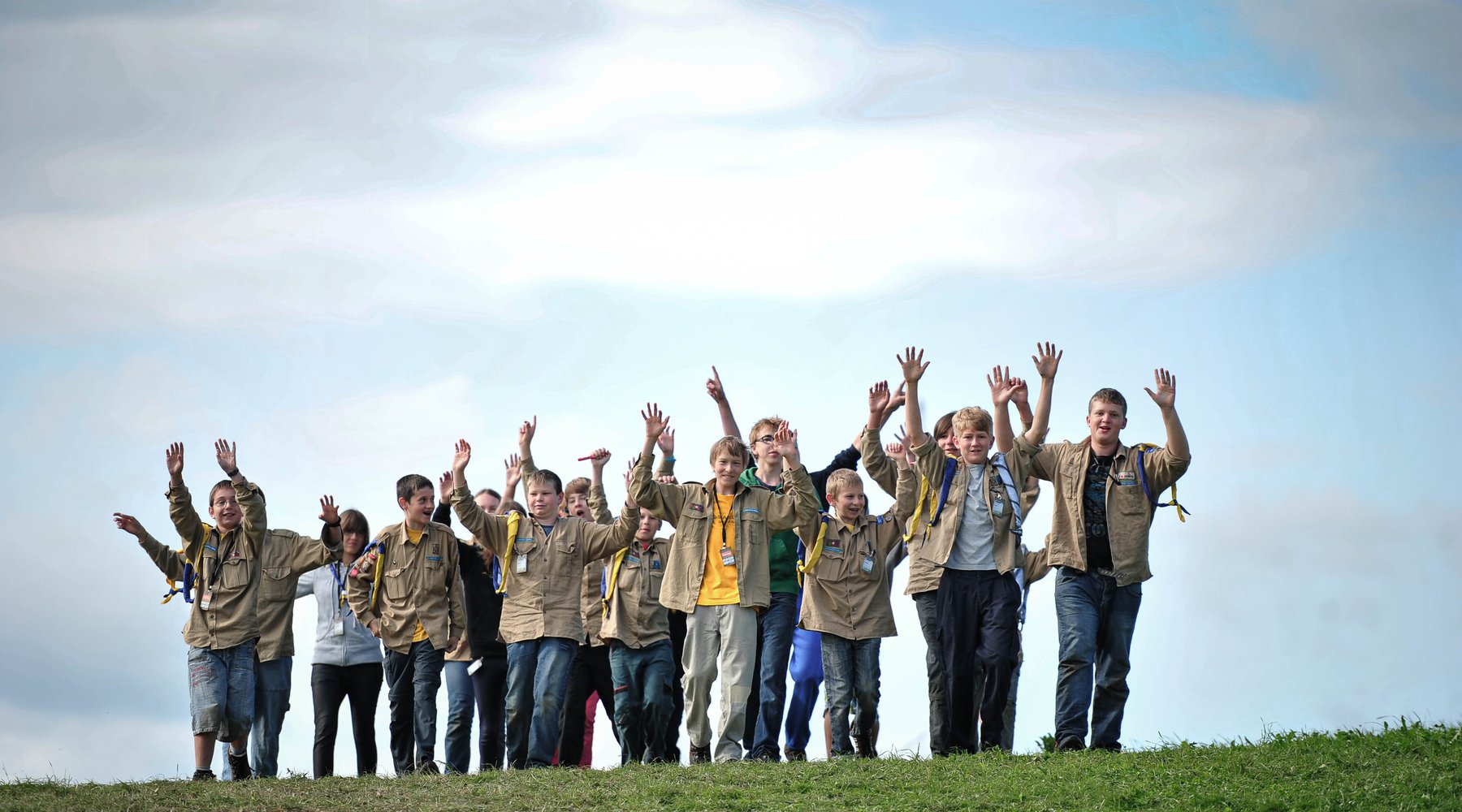 Uniform and scarf
Guides and Scouts wear a traditional khaki shirt with a different cut for males and females. It has two big chest pockets and epaulettes.
Types of activities
Typical Scouting and Guiding activities are hiking, night games in the forest, orienteering, pioneer construction or sports games and challenges. Activities often follow a storyline, for example the Scouts and Guides are stranded astronauts on a distant planet and must learn to survive, help rescue the medieval city from an evil knight or hunt for long forgotten treasures with a crew of pirates. They spend their time preferably out in nature, organizing events, deciphering secret messages, building an outdoor sauna, learning how to cook on open fire or singing in the evening at the campfire, in line with the motto «Be prepared!».
Meetings and camps
Scouts and Guides traditionally meet on Saturday afternoons, in addition to at least one annual camp. Frequently Scout and Guides have a three-day camp on Pentecost weekend and a longer camp in summer or autumn. They can also have patrol activities, where the patrol leaders organize activities for their patrol under the supervision of a leader.
Law and promise
We as Scouts and Guides want ...
... to be open and honest
... to seek joy and give joy to others
... to offer our help
... to make decisions and take responsibility
... to understand others and respect them
... to share with each other
... to take care of nature and all that lives
... to face difficulties with confidence
The promise
I promise to do my best
... to continue contemplating the Scout and Guide law
... to search for the meaning and the goal of my life
... to contribute to any community I live in
Together with all of you (voluntary: and with God), I will try to live according to this promise.
Badges
Each Guide or Scout has at least the emblem of the world organisations WOSM or WAGGGS on the left sleeve of their shirt, as well as a group badge. The left sleeve of the shirt is intended for membership badges and the right sleeve for personal development badges.
As a Scout or Guide becomes a patrol second leader, he or she receives a strip of grey fabric to sew on the right pocket. Patrol leaders receive a second grey strip, to be sewn next to the first one. The patrol leader also wears a grey cord on their left arm.
Personal development
Personal progress is achieved through the three achievement steps for Guides and Scouts (join – participate – take responsibility). Scouts and Guides receive a badge for each progressive step reached, which they can sew or glue on the right sleeve of their shirt. The necessary skills to obtain each badge cover all 5 relations of the Scout and Guide method.
In addition to this, Guides and Scouts have the opportunity to obtain speciality badges by developing their skills on a specific topic like the journalist, environment, astronomy or international culture badge.